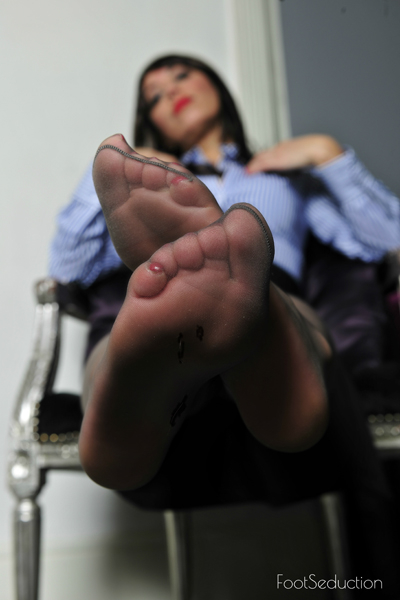 The very fact that you have entered My site signifies that you are devoted to beautiful sensual women – more specifically, to the adoration of heavenly feet.
You have found, in Me, a true devotee to the art of being a foot Goddess – trust me when I say that I am the ultimate in foot seduction. There must be no doubt that you will pay nothing less than a homage to My feet with loving tenderness and reverence; and if such devotion takes time to learn, then so be it!
With a beautiful olive complexion and a perfect statuesque hour-glass figure you will also be most taken with that that is above My elegant calves. Make no mistake, I am the epitome of feminine decadence and sophisticated elegance – a natural tease; and a word in your ear – I am stimulated by erotic situations, especially those which are foot inclined. The perfection in my long legs, sculpted calves and graceful ankles will make you go weak at the knees; whether these legs are adorned in vintage style stockings and/or exquisite shoes, or any other luxury items which I may, in time, allow you to choose.
I may allow you to graze your cheek and tongue against the soft velvety skin of My beautifully pedicured pharaoh's feet or I may choose to explore the inside of your mouth with My perfectly aligned toes; for of course I do find it all rather relaxing. Another generous gesture from Me and a pleasure for you will be for you to massage My elegant arches and soles – be they in the nude or stocking clad.
I could have you tied helplessly at My stocking clad feet whilst playing with your exposed genitals – an afternoon's amusement, let us say. Other favorite activities of Mine involve; trampling (with or without My 6 inch heels), you as My human footstool, under the table foot worship, deep throat foot worship and having you lick food from My feet. Should you be lucky, you may have the pleasure of looking after my wonderful collection of shoes
If I permit you the pleasure of a visit, you will want to come again and again – whether I allow you this privilege though will depend entirely upon your performance!
Maybe it will be the tailor made suit,  pencil tight skirt, beautifully made hosiery or corsets or perhaps the suspenders and seamed stockings – whatever my attire it will have you speechless and on your knees; perhaps under my desk for that office foot fetish or tied at the foot of the boudoir bed having your soles beaten whilst I press my heels of steel into your palms.
My chambers are well equipped for role-play settings – My beautiful boudoir styled room providing a more domestic setting and in this enclave of sublime foot seduction you will could also be indulged in activities surrounding foot fetishism – for example administrations of CP until I believe you have earned the reward of lavishing attentions on my feet – all is possible…
So, after all of that, tell me you are not further tempted? All you need now do is make that enquiry…